I am fascinated with glass art! The process seems like magic. If I weren't holding down the fort in my own studio this year, I think Bob Heath's studio might be the first one I would visit, so it was nice to have the chance to ask him a few questions…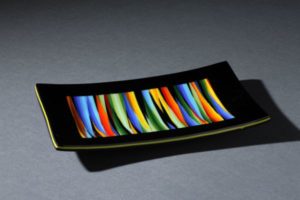 What do you have in store for visitors this fall during the Washington County Artists StudioTour?
We have a fun hands-on activity for visitors to our studio. We have on hand, some basic glassware, including simple water glasses, wine glasses and beer glasses. For a small fee, visitors can choose a glass then decorate it with vinyl stickers made with a wide variety of punches that we have on hand. Then they can take their glass to the sandblast cabinet and frost everything that isn't covered by a sticker. After that the stickers can be removed to reveal a permanent design in the glass. In the past, we've had everyone from children to seniors give this a try and they all had fun and left with a treasured memento.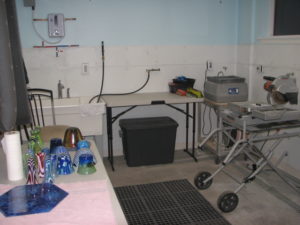 How did you get involved with art? Did it interest you growing up?
I've had a fascination with art glass for as long as I can remember, probably starting with the stained glass windows in the church I attended as a child. I also fondly remember the tree that my grandmother kept decorated with brightly colored bottles hanging from strings. Blown glass balls and intricate glass paper weights intrigued me as an adult. It wasn't until I was in my 40s that I finally decided to try it myself and my wife and I enrolled in a stained glass class. I really loved the process and then I discovered glass fusing and the myriad possibilities that it held for different ways to manipulate glass and there was no looking back. The technical side of glass fusing appealed to the engineer in me and I found myself always thinking about new techniques that I wanted to try and working out processes to achieve specific designs. That's still what drives me today, over 20 years later.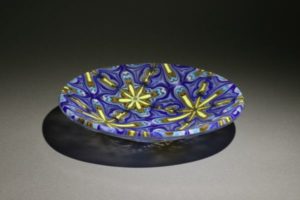 What's your art background? Where did you learn your art?
I don't have a formal art background. My career, from which I am now retired, was as a software engineer. My engineering background continues to be a strong influence on my glass art. I love to play with processes and combine techniques from multiple disciplines to try and achieve something new. There are a number of excellent glass art schools and organizations here in Oregon and I've been very fortunate in opportunities to learn from dozens of truly gifted glass artists and instructors. I continue to be fascinated by new techniques and there are always more classes on my horizon.
What memorable responses have you had to your work?
A visitor to my booth at a show looked at one of my rainbow colored "Radiant" bowls and said: "Looking at that just makes me happy".
What research do you do before you start a project?
Where possible, I like to start by making a drawing of what I want a piece to look like. This is usually done on a computer where I can easily edit and play with shapes, sizes and colors. For complex pieces, I use the computer model to dissect the work into component parts which can then be constructed separately. I take extensive notes about each kiln firing I do, so when I'm finally ready to convert the computer image into glass, I have a reference library of previous work to consult in order to get just the effect I want. If I am doing something new, I'll often do some test pieces first to work out the details before committing to larger work.