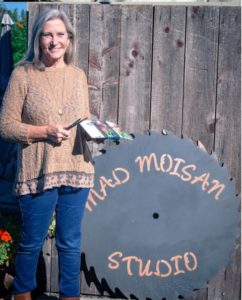 Who is "Mad Moisan" and why is that the name of your studio?
My husband and I built my studio last year, and I named my watercolor business Mad Moisan Watercolor.
My father died several years ago at 98 years old. During his life he built several dairy farms from the ground up. Also helped to raise 8 children. He was quite a guy, and was affectionately named Mad Moisan. He always wore a red and white striped night shirt, and my mother had the back embroidered with his nickname. Every one of us have some amazing stories about our dad—getting lost at sea, herding cows in the middle of the night to name a few. My favorite story is one that all of us have different versions of, and that is our dad's practice of suddenly appearing on the front porch, just as we were saying goodnight to our dates, wearing his red striped night shirt, usually carrying a shot gun and yelling "What the Hell is going on out here?!!".
My dad was also quite artistic, and usually carried a notebook in his pocket for an occasional sketch. I named my studio after my dad to honor him and his vibrant spirit. I'm looking for a red and white striped night shirt to fly as a flag. This is my first year on the tour, and I'm pretty excited!