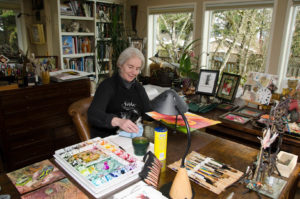 JoAnn Pari-Mueller
This is my third year in the Open Studios Tour. I love peoples' reactions to my country studio and my work. They have thoughtful questions and are genuinely interested in how some painting, calligraphy, pastel, or collage was created. One woman asked me if I'd be willing to paint a beaver and it led to being part of the Wetlands Conservancy Statewide Beaver Tales Exhibit. One of these beaver exhibits also led to my being asked to participate in a group show at the lovely Fairweather Gallery in Seaside, OR
Watercolors are my first love – I was introduced to them 8 years ago. I started calligraphy a year later and gradually started exploring pastels and collage, and recently, acrylics.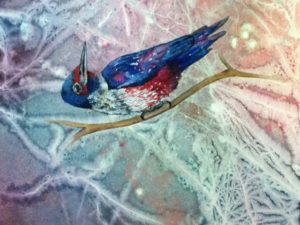 My two-year-old studio addition is a lovely space with big windows and skylights in a park-like setting with a wooded backdrop. It is full of my books and inspirational materials such as rocks, shells, feathers, and art objects collected from around the world. My two papillons, Daphne and Minerva, like to hang out there, too.
My mother is a painter a printmaker (age 96!). While growing up I was surrounded by art and artists. I was also a Portland Art Museum Docent (tour guide) for many years. Although I chose a career as a registered nurse I feel as though those art genes were just lying dormant – ready for exposure.
I love demonstrating various interesting art techniques in my studio and have added a few new techniques since last year – especially experimenting with beautiful natural plant materials and acrylic overlays.
During these past 8 years I have discovered that nothing is as exciting as seeing an idea come into existence. Flora and fauna provide endless inspiration that allow me to continue exploring the use of rich backgrounds, detailed subject matter, calligraphic words, and sometimes grids or elaborate borders.