Yesterday I was sweeping up the latest layer of scraps and threads from the studio floor and thinking about all the studio tidying that is happening in Studios all over Washington County right now. The Studio Tour just a little more than two weeks away and the participating artists are getting their spaces ready!
i got this note from Peg Falconer, tour organizer and book artist/calligrapher, sublime—
"Thank goodness for the Open Studio Tour; it forces me to clean up the clutter and make art. This is the state of the studio this morning…ACK.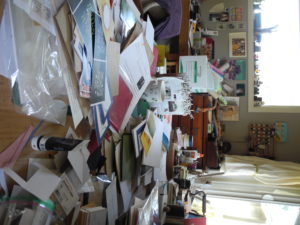 The good news is that buried in the mess is a sketch for a collaborative project I participated in last January, led by local artist Shu-ju Wang. Fifty artists contributed their version of these words; Shu-ju printed them on to fabric, making prayer flags to hang or hand out on Inauguration Day. Once I find my table space, I am going to rework this as a card that will be available for the Tour!"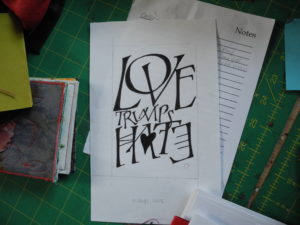 Good find, Peg! Back to work, I go. Wonder if I'll find something that good buried in the pile of stuff on my work table…